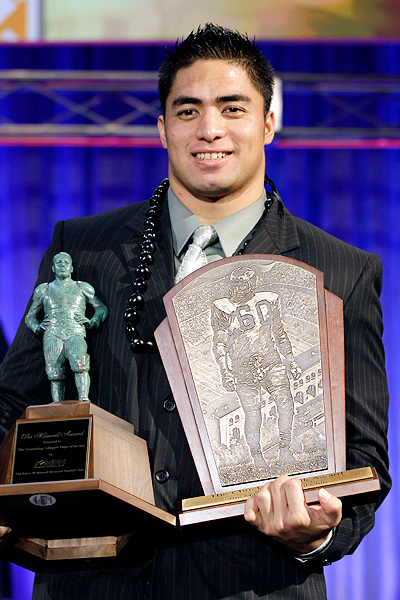 Name: Manti Malietau Louis Te'o
Height: 6'-2"
Weight: 255 lbs.
Class: Senior
Hometown: La'ie, HI
High School: Honolulu Punahou
Date of Birth: January 26, 1991 (22 years old)
Fighting Irish Career
2012 Senior Year:
One of the most decorated players in college football history....recipient of the Maxwell, Butkus, Nagurski, Defensive Player of the Year IMPACT Lott Award, Bednarik, Lombardi and Walter Camp Trophies....finished 2nd in Heisman voting.....started all 13 games, registering 113 total tackles (55 solo), 5.5 tackles for loss, 7 interceptions (led all FBS LBs), 11 passes defensed, 1.5 sacks, 4 QB hurries and 2 fumble recoveries.
2011 Junior Year:
Named 2nd team AP All-American, Butkus and Lott Trophy finalist, winner of FBS Independent Defensive Player of the Year....finished the season with 128 tackles (62 solo), 13.5 tackles for loss, 5 sacks, 4 QB hurries, 2 passes defended and 1 forced fumble.
2010 Sophomore Year: Switched from outside LB to inside as Irish switched to 3-4 defense.....led the team in tackles with 133 (66 solo), 9.5 tackles for loss, 1 sack, 3 QB hurries, 3 passes defended and 1 forced fumble.
2009 Freshman Year: After playing in all three games into the season, made his first start against Purdue....63 tackles (29 solo), 5.5 tackles for loss, 1 sack, 1 QB hurry and 1 pass defensed....third most total tackles as a freshman in school history behind Bob Golic and Russ Browner.
2012 Senior Highlights
Strengths
+
Has the ideal size to play in any defensive scheme in the middle
+
Displays above average field awareness; instincts improved greatly his senior year
+
Plays fast on the field, diagnosing plays quickly
+
Every down LB who's good in pass coverage
+
Improved his quickness and lateral agility his senior season
+
Good ball skills and has a good feel for zone responsibilites in coverage
+
Above average strength to take on blockers against the run and generally effective shedding blocks
+
Downhill run defender plays really well inside the box, filling gaps in a hurry
+
Understands gap assignments and makes pre-snap adjustments on the fly
+
Natural leader who sets the tempo for the defense; intensity is contagious to teammates
Weaknesses
-
Questionable straight-line speed; 40 time could be pedestrian
-
A bit stiff in the lower body and is not a quick twitch athlete
-
Does not have elite measurables and won't test well at the Combine
-
Bizzare situation with fake online girlfriend
Player Comparison
:
LB Jerod Mayo - New England Patriots
Manti Te'o had a very memorable season to end his collegiate career at Notre Dame, winning just about every post season accolade and coming second in the Heisman Trophy race. After a forgettable National Championship game against Alabama, things went from bad to bizarre for Te'o. The story of Te'o's dead girlfriend being a hoax and everything else that ensued afterwards has left a bit of a stain to his image. His interview process at the Combine will be almost as important as his on-field test numbers. Aside from the media circus that's marred his path to the draft, Te'o is a very talented football player. His leadership and intensity on the field elevates the level of play of his teammates, which are all very important attributes when it comes to the position. Te'o had a very dominant season, save for possibly two games (Stanford and Alabama). He's shown to be a very reliable tackler with the ability to make the big hit without sacrificing position or technique. His senior season he really improved in coverage. Notre Dame's defense gave Te'o a lot more coverage responsibility and he did not disappoint. He led all linebackers in the FBS in interceptions and only Fresno State's Phillip Thomas had more. The biggest question marks for Te'o as a football player are his straight-line speed and agility. He's going to have to show that he can stay with speedy runningbacks on wheel routes out of the backfield at the next level. He also needs to show that he can make plays isolated in space. As much of a downfield player Te'o is, he was somewhat protected in the box. He hasn't had to make many plays were he had to sink his hips, breakdown in space and make the tackle. Going back to the two games in particular that I highlighted (Stanford and Alabama), his performances in those two games are either just two bad games for Te'o, or it could be looked at as a microcosm of some of Te'o's deficiencies that will hinder him at the next level. In both of those games, he couldn't shed blocks, missed tackles and just looked average. In my opinion, two games are too small of a sample to outweigh the eleven other games that were played. The other big issue (or non-issue for me at least) is the online internet relationship he had with a fake girlfriend. How teams put weight on the situation will greatly determine Te'o's position on their draft boards. Te'o's current draft value is anywhere from top 10 to the bottom of the first round. One thing to keep in mind is that there are many teams that are in need of Mike linebackers, and there isn't a whole lot of talent in the draft or in free agency. This could increase his value as the draft draws closer.
Early in the post-season process, there were arguments about whether or not Manti Te'o would be a good selection with the 3rd pick overall. Its evident that MLB is one position of great need on the Raiders roster. Many Raiders fans, possibly because of Rolando McClain's bust status, have been against drafting Te'o. I think that things have changed since late December, early January. He's no longer looked at as a sure-fire top 10 pick. That's a mistake. Like last year's LB stud Luke Kuechly, Te'o has a huge body of work where he's been productive. Seeing him elevate his game this season by making necessary changes in the offseason said a lot about Te'o the football player. He elevated a team that really had no business being in the National Championship game against Alabama. It was embarrassingly obvious of difference in talent of the two teams. As Te'o went, so did the Irish, which says a lot. Te'o may be out of the question with the #3 overall pick, but if the Raiders can find a willing trade partner and drop down into the early teens, he's definitely worth a look. He has the intangibles and leadership traits that the current regime values and though he won't have eye-popping workout numbers, his play on the field will make him a valuable commodity come draft day. Te'o isn't Rolando McClain....even if he ends up running a similar 40 time. Te'o is a football player who has the work ethic and dedication to succeed. I wouldn't put it past Te'o to use his offseason setbacks to fuel his fire in the NFL to make him a better player. Minus fake girlfriend, #5 wearing #55 to replace a bust would be a huge upgrade.
40 Yard Dash: 4.82
Vertical: 33"
Broad Jump: 113"
3 Cone Drill: 7.13
20 Yard Shuttle: 4.27
Te'o didn't test well at the Combine, but he also didn't embarrass himself. Where Te'o helped himself the most was by voluntarily stepping to the podium and taking part in the media press conference at Lucas Oil Field. It wasn't a requirement, but he came off looking good and did what he could to repair his image. On the field, Te'o looked like he was pressing a bit, maybe due to the pressures of the weekend, but you could tell that once he settled in, he looked better. He promised to put on a better show at the Notre Dame Pro Day on March 26.