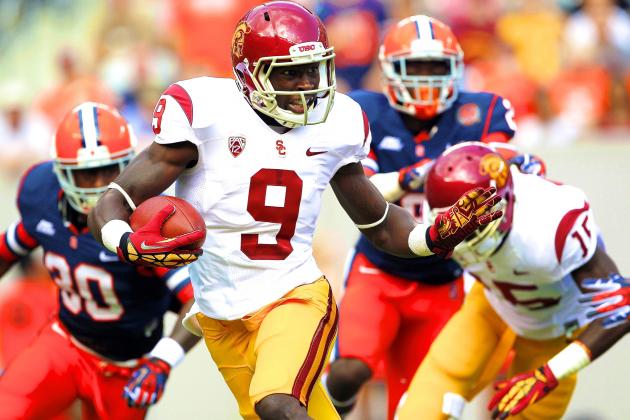 Marqise Lee
Wide Receiver
Southern California
COLLEGE CAREER
2011 Freshman Season: Lee took USC by storm, piling up 73 receptions for 1143 yards and 11 touchdowns. Lined up opposite Robert Woods, the two set a school record for combined receptions (184) and yards (2435), more than any other tandem in school history. Awarded Pac-12 Freshman Offensive Player of the Year and 2nd Team All Pac-12.
2012 Sophomore Season:
Lee followed up his freshman season with a better sophomore campaign, compiling 118 catches for 1721 yards and 14 touchdowns. Marqise set two Pac-12 records in the process, racking up 345 receiving yards against Arizona and totaling 251 return yards against Oregon the following week. He capped off the season to become the first Trojan to win the Biletnikoff Award as the best receiver in the nation. Awarded Pac-12 Offensive Player of the Year, 1st Team All Pac-12 and unanimous 1st Team All-American.
2013 Junior Season: Without QB Matt Barkley and running mate WR Robert Woods, and hampered by nagging leg injuries, Lee had an overall disappointing year. In 11 games, Lee caught 57 passes for 791 yards and 4 touchdowns.
HIGHLIGHTS
STRENGTHS
+ Above average route runner and willing blocker
+ Knows how to gain yards after the catch
+ Exceptional vision in traffic
+ Can be a gamebreaker in the return game
+ Great at getting vertical and tracking the deep ball
+ Has the extra gear and burst acceleration to extend plays
+ Solild character guy who's self-motivated and competitive
WEAKNESSES
- Average size; nagging leg injuries question durability
- Ball security in traffic
- Needs to improve fighting for jump balls
- Ran slower than expected at Combine
NFL Player Comparison
Marqise Lee's ability to turn up field and get yards after the catch is very similar to current New York Giants WR
Victor Cruz
. Cruz is a very crafty route runner who can run the same route differently to throw off defensive backs and keeps them off balance. Lee is very similar in that respect, in that he sets up opposing defensive backs by exploding out of his break and gaining separation. It would be a mistake to compare Lee to his former high school and college teammate Robert Woods. Though Woods shares a lot of Lee's traits, besides the size and build, the two are very different players. Lee is much more explosive and plays much bigger on the field. Lee has the ability to have a higher pro ceiling than Victor Cruz.
Raiders Draft Analysis
If there is one prospect in this draft that I believe has been getting a bit overlooked, its Marqise Lee. For as much publicity and hype as Clemson's Sammy Watkins has been getting (and deservedly so), Marqise Lee is very much his equal in his body of work.
Lee checks off a lot of things that the Raiders are looking to add this offseason. He fits a position of need, and though he doesn't have ideal size as a potential #1 WR, he has all the desired traits teams look for in a primary wide receiver. On that note, when you watch Lee play on the field, he looks and plays like a much bigger WR than his measured size. Having played at SC, Lee is well versed in the West Coast Offense but will have no problem with teams running more vertical passing principles. Lee is a deceptive route runner who has an understanding of how to set up the opposition to create separation and space. He's a terror after the catch, using his exceptional vision to set up blocks and sift through traffic. He's also very good tracking the deep ball and seeing the ball into his hands. Lee is also very good in the return game and running end arounds and reverses.
A very underrated part of Marqise's game is his willingness as a blocker. He has no issues with locking up his man and playing through the whistle. Any team is going to be happy with Lee in that regard, and it shows a little bit more about him as a prospect in terms of his commitment to the team and the offense even if he's not in the play. The reason why I mention that is that a large number of WRs don't do that. We hear often about guys in the collegiate or in the pro ranks (especially those that are talented) who have questions about focus and effort when the offense is not running through them.
There isn't much of Lee's game that is a glaring negative. He had a down year last season, but much of that should be attributed to the underwhelming talent at QB, not to mention the mess that was Lane Kiffin. The nagging injuries issue has more to do with perception. If its just said that Lee had nagging injuries that plagged his 2013 season, then its easy to put the durability issue tag on him. But the reality of it was that though Lee did get injured, it had more to do with his desire to play and help his team on the field that caused those injuries to linger. As for his lack of prototypical size, the success of guys like Antonio Brown and Victor Cruz has shown that given the right system, its not going to matter. Lee has every bit the talent of both of those pros.
If there are things that Lee needs to improve, one of them is increasing his catch radius. This is where Sammy Watkins edges Lee. Watkins is very good at adjusting to poorly thrown balls coming out of his break because he can snatch the ball out of the air without breaking stride. Lee at this juncture is more of a body catcher, but does display good, consistent hands. If Lee can get better at extending his arms and pluck the ball out of the air, he'll become even more dangerous than he already is. The other area of his game that he can improve that is related to his catch radius is in the red zone. Lee could do a better job of attacking the ball on jump balls where there isn't a lot of room to operate. He's already displayed exceptional explosion with his Combine numbers (vertical and broad jump), so its just a matter of using that athletic ability and honing his technique and body control.
There's been some talk about Marqise's timed 40 yard dash at the Combine and how that affects his draft stock.
Even his former coach Pete Carroll was surprised with his 40 time.
There are prospects who need to solidify their position by running a fast 40. Lee's speed, quickness and burst were never in question while he was at USC. In the open field, Lee rarely gets caught from behind. In my opinion, Lee's 4.5 40 time shouldn't be a cause for concern. He's expected to improve that number at USC's Pro Day on March 12th. At the end of the day, it is his functional speed on the field that is more important.
Currently with the #5 pick, it would be a major reach in the eyes of most people if Oakland were to make Lee the pick. He would be a great pickup for the Raiders if they can move down and accrue additional picks. Lee's addition to the current crop of Denarius Moore, Rod Streater and Andre Holmes would be a major plus. He's projected to be picked in the second half of the first round and I've even seen as low as early 2nd round.

I doubt Lee stays on the board that late, but with such a deep prospect pool, anything could happen. In a best case scenario, the Raiders would draft a pass rusher like Clowney or Mack in the 1st round and have Marqise Lee sitting on the board with the 36th pick in hand. Lee's ability to line up and down the formation along with the current group of WRs would greatly energize the offense.