Greg Robinson
Offensive Tackle
Auburn
Height: 6'5"
Weight: 332 lbs.
40 Time: 4.92s*
Bench Press: 32 reps
Broad Jump: 9'8"*
Strengths
+ Prototypical size and arm length
+ Very good feet and agility; able to mirror defenders on the edge
+ Powerful mauler with violent hands
+ Generates a lot of strength with his lower base
+ Great on the move pulling and trapping
+ Plays physical and mean
+ Sky is the limit with his upside
Weaknesses
+ Raw and inexperienced with only 25 games started
+ Needs to improve hand use and placement pass blocking
+ Technique is work in progress
+ Inexperienced in pass protection
+ Can get overly aggressive, reaching and grabbing
NFL Player Comparison:
OT Jason Peters - Eagles
To compare Robinson to a perennial All-Pro like Jason Peters might be too lofty, but that's his upside. If Robinson can put it all together, he certainly has all of the tools to be the type of franchise left tackle Peters has been for most of his career. Like Peters, Robinson has above average athleticism at the position. He has quick and nimble feet to kick out against outside pass rushers. He also uses his quickness to get out to the second level and maul defenders in the running game. What separates Robinson with a more refined prospect like TAMU's Jake Matthews is his devastating power and Clowney-like upside. Where Robinson really stands out is his ability to sink his hips and explode out to rag-doll defenders.
Robinson's one glaring weakness is in pass protection. He has the feet to slide out to wall off defenders, but his inexperience causes his technique to be inconsistent. Many times he'll use his legs to mirror the defender, only to stop moving his feet and cause him to reach and grab. That has more to do with technique on Robinson's part. The other part that will also come with experience is the ability to recognize blitzes and identify proper blocking assignments.
Overall, Robinson is the prototype for physical play at the position. His lower base and his violent punch out of his stance is elite. Where he needs to be better is with consistency doing it and putting all of his physical ability together.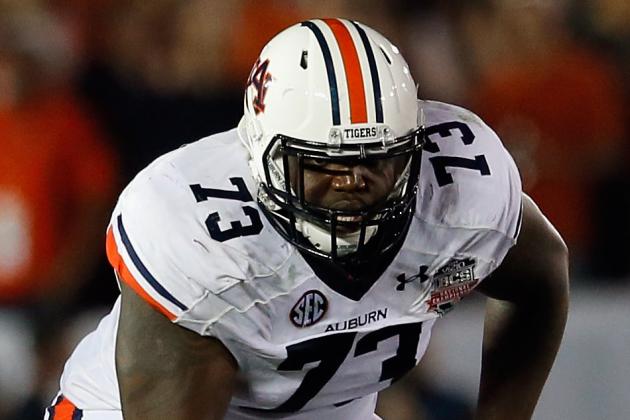 Raiders Draft Analysis
Before free agency, it seemed all but a formality that the Raiders were going to re-sign now Arizona Cardinal Jared Veldheer. Its still a tough pill to swallow for a lot of Raiders fans (me included) but at the end of the day, Veldheer is now going to protect Carson Palmer's blindside. Reggie McKenzie alluded to how he wanted to keep both Veldheer and Lamarr Houston, but that ultimately they wanted to play elsewhere. The draft implications after losing Veldheer, signed then failed Rodger Saffold, and landing Donald Penn is that the Raiders sooner or later need to find a long term solution at left tackle.
Donald Penn was a good get for the Raiders, but Penn isn't always in the best of shape and is coming off a bad year in Tampa Bay. Whether last year was just an aberration, or a player who's had questionable work habits declining remains to be seen. Even having a guy in waiting like Menelik Watson doesn't exclude the Raiders from looking at OT at #5 overall.
Currently Robinson has been a heavy favorite to go #2 overall to the St. Louis Rams. If the Rams can't trade down, Robinson could slide in at right tackle for a few years until Jake Long's cap number becomes an issue for the Rams. Of the teams ahead of the Raiders, both Jacksonville and Cleveland could use some help at OL. For the Raiders, drafting Robinson would the first pick since Robert Gallery at the top of the 1st round. Whereas Gallery was widely seen as a safe pick, Robinson is still a neophyte with plenty of developing to do. I don't say that in a bad sense, more along the lines of his prospect ranking is well warranted in spite of his relative inexperience. That's saying a lot. Robinson is being talked about in top 5 conversations and he's still developing.
Whether or not Reggie McKenzie will go in this direction is highly debatable. Its been said that it will be important for McKenzie's reputation as a talent evaluator for both DJ Hayden and Menelik Watson to make a jump in year 2. If that is the case, Watson is being groomed and developed to play one of the bookend spots sometime this coming year.
That's where an addition like Robinson to the Raiders gets bumpy. Menelik Watson in some ways is very similar to Robinson. Watson is short on experience and high on potential and upside, just like Robinson. Most Raiders fans didn't get to see much of Watson due to his nagging leg injury last year, but Watson's strengths and weaknesses interestingly enough are very similar. "Rare athletic ability, tremendous frame . He has an explosive first step, light feet, and a violent punch. There are a lot of things in his game that need to be cleaned up from a technique standpoint." That's Watson's draft breakdown from NFL.com last year. It could be the very presence of Watson and McKenzie banking on him developing, that the Raiders might look elsewhere even if Robinson is available.
The fact is that outside of Watson, there are no young, long term solutions on the outside. Last time I checked, having a stud OT or two isn't a bad thing. Having Watson stay healthy and develop into a starter, and pairing him with Robinson could be the beginning of a formidable front for Oakland.