I'll be posting my observations of games and players watched every week that I have on my draft radar as the season goes. Here's my observations of week one:
#19 Boise State vs. Washington
1. Washington had the biggest showing of the weekend
- HC Steve Sarkisian and the Huskies avenged their bowl game loss by demolishing #19 Boise State over the weekend.
QB Keith Price
and
RB Bishop Sankey
had their way with the Broncos defense in route to handing them their worst loss since 2005. The Huskies defense was surprisingly stout, making HC Chris Petersen's usually creative and high power offense look completely ordinary.
Stock Up:
RB Bishop Sankey
was the MVP of the Maaco Bowl the last time these two teams met in December and Saturday was no different. Sankey ran with balance, power and quickness, racking up 163 yards and 2 TDs in the process. Sankey is a top 10 RB prospect.
Stock Down:
TE Austin Seferian-Jenkins
is widely seen by many as the top draft eligible TE in the upcoming draft. Sitting on the sidelines in uniform and not playing due to a team administered game suspension for an offseason DUI doesn't help his draft portfolio.
#5 Georgia vs. #8 Clemson
2. Tajh Boyd was the most impressive QB in week 1
- Apologies to Teddy Bridgewater and his 5 TD day, but Boyd's play in Clemson's big win over #5 Georgia has cemented his status as the early favorite for the Heisman. Sure its just week one, but this was Boyd's second consecutive big showing against a highly ranked SEC team.
WR Sammy Watkins
looks like he's poised to be one of the top WR prospects this season. His ceiling is higher than recent Texans draft pick DeAndre Hopkins.
Stock Up:
QB Tajh Boyd
- Calling
Tajh Boyd
a read option QB would be selling this guy short. Boyd not only showed that he could make plays with his feet, but he showed that he has the type of mental makeup to keep his team going in big games. He's also got plenty of arm talent...even when Boyd is on the move, he can sling it and throw with touch as evidenced by his pretty breadbasket toss to RB Zac Brooks. Very underrated in Boyd's game is how good he is with playaction. It opens up the rest of his game because he's so good at it. As a prospect he's a cross somewhere between Russell Wilson and Donovan McNabb.
Stock Down:
QB Aaron Murray
- Murray may be a record setting QB when its all said and done, but the game was close because of
RB Tori Gurley
(who is my top prospect for 2015). When the Bulldogs needed Murray to put him on their back, Murray literally fumbled away the opportunity. I've felt this every since Murray was first hyped as a prospect, and I'll say it again.....I don't think Murray has what it takes to be a franchise caliber play caller. He doesn't handle the pressure well and has masked his deficiencies as a QB on a talent laden Georgia team.
Nevada vs. #21 UCLA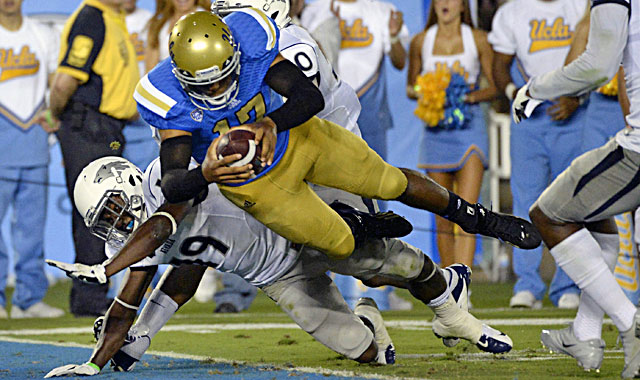 3. UCLA Bruins are the new kings of LA football
- Then rookie HC Jim Mora Jr. and freshman QB Brett Hundley put UCLA back on the national map last season. This year the high powered Bruins offense looks quicker and more confident in Mora's second year and it looks like its ready to join the big boys (Oregon and Stanford) of the Pac-12. Whereas Lane Kiffin's Trojans put up a lukewarm performance against an inferior opponent, the Bruins demolished what many believe to be a bowl contending Wolfpack team.
Jordan "Joystick" James
lived up to his moniker and filled in for departed UCLA record setting RB Jonathan Franklin with shifty runs on his way to over 150 yards in the evening.
Stock Up: QB Brett Hundley
- Redshirt sophomore
QB Brett Hundley
had his way with a Nevada team that many think will win their conference. He looked decisive with his throws and ran the Pistol offense to perfection as the Bruins racked up over 600 yards on offense. His 37 yard run in the opening quarter was almost a carbon copy of his first snap last year against Rice. He has prototypical size and strength, and has more than ample arm strength to make all of the NFL throws. Hundley and Marcus Mariota will be the two legitimate Heisman candidates out of the Pac-12 all season long. I don't foresee Hundley springing for the NFL after the season, but a great season could make the move tempting.
Stock Down: LB Anthony Barr
- I'm sure Nevada accounted for
OLB Anthony Barr
on every offensive play it ran. The Wolfpack ran away from Barr for most of the game, which might be a trend moving forward into the season. Barr's presence may have impacted the game, but he wasn't his usual dominant self. He did cover his assignments and didn't blow any plays, and allowed freshman
LB Myles Jack
and junior
LB Eric Kendricks
to lead the Bruins in tackles. I expect Barr to be a bigger defensive factor against Nebraska next week. Barr will need to focus on making more plays in space and versus the run.
#24 USC vs. Hawaii
4. Lane Kiffin is on the hot seat
- When USC's athletic director put out a pre-emptive video on social media in support of Kiffin several weeks ago, most people thought Kiffin's job will be safe. What, with the sanctions and the scholarship limitations, Kiffin is making the most of what he can do as coach. Well truth be told, that's the national perspective. Those close to the program, ie boosters, alumni, and former players aren't huge fans of Kiffin. His personality may not be a good long-term fit for the program and is a big reason why that there are many who are unsatisfied with Kiffin, even when he wins.
Stock Up: Trojans defense
- Minus a last second 60 yard TD pass, the Trojans held the Warriors offense to 171 yards. New DC Clancy Pendergast had his guys fired up, picking off 4 passes with one pass going to the house. The Trojans blasted their way to 8 sacks, with junior
DE George Uko
leading the way with his dominant performance. Uko is a player to keep an eye on as the season progresses. He's playing DE this year and so far he's bringing pressure off the edge and is plenty disruptive, very similar to Raiders DE Lamarr Houston. True freshman
DB Su'a Cravens
is a star in the making and he's so far lived up to the hype. His interception helped set the tone for the Trojans defense all game.
Stock Down: Trojans QBs
- Lane Kiffin's management of both
QB Cody Kessler
and
Max Wittek
has been criticized. Splitting the reps in practice and not naming a starter until a day or two prior to the Hawaii game didn't help. Many locally believe that not calling Kessler the outright starter has more to do with whether or not Wittek will transfer if he doesn't win the job. Wittek's whole life has been set up to become the next great QB of USC, but its been obvious to everyone close to the program that the offense responded better to Kessler leading up to this game. Wittek and his father might not be pleased if he has to play backup to Kessler. Neither player asserted themselves as the starter and Kiffin will have to figure out very soon what he's going to do to get one guy the majority of the reps.
Johnny Manziel is an Idiot
5. Texas A&M needs to straighten out Johnny Football
- First of all,
Johnny Manziel
getting a half suspension for 4,000 plus "free" autographs is a joke. You would think that the NCAA would have done more after suspending a guy like Dez Bryant for lying about having dinner with an agent. He's learned nothing from the experience and HC Kevin Sumlin has a potential headache on his hands. He's the one guy who's been in Manziel's corner the whole time and instead making his coach look good, his antics downright embarassed his coach, leading Sumlin to bench Manziel in the 4th quarter. He hasn't grown up from the offseason, and it looks like he's been reading his own press clippings for too long. The paper gesture and the autograph gesture were done in bad taste. Sumlin suspended a group of players leading up to that game for team violations, and if he starts using a double standard, the dynamic of the team and the season could be lost very quickly. Time to rein Johnny Football in and give him a dose of common sense and humility.