Name: Datone Jones
Height: 6' - 4"
Weight: 275 lbs.
Class: Senior
Hometown: Compton, CA
High School: Compton High School
Date of Birth: July 24, 1990 (22 years old)
2012 Senior Year:
2nd Team All-Pac 12.....started 14 games, finishing the season with 62 total tackles (45 solo), 19 tackles for loss, 6.5 sacks, 2 QB hurries, 2 forced fumbles and 2 blocked kicks/punts....also had a reception for a TD on offense.
2011 Junior Year:
Started all 14 games, finishing the season with 41 tackles (23 solo), 6.5 tackles for loss, 3 sacks, and 2 pass breakups.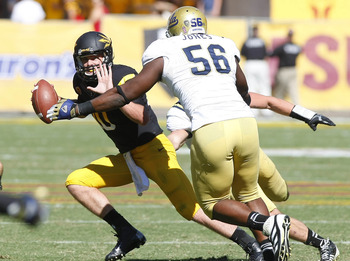 2010 Medical Redshirt:
Sat out entire season with a right foot fracture during fall camp.
2009 Sophomore Year:
Started all 13 games, finished the season with 30 tackles (12 solo), 11 tackles for loss, 4 sacks, 1 QB hurry, 3 pass breakups and 2 forced fumbles.
2008 Freshman Year:
Appeared in 10 games with 2 starts as a true freshman.....made All Pac-12 Freshman Team, finishing the season with 15 tackles.
2012 Senior Highlights

:



Strengths:

+

Possesses prototypical size

+

Excellent length and long wingspan

+

Hybrid player can play inside or outside; versatility to play multiple defensive fronts

+

Has a good repertoire of pass rush moves

+

Disruptive penetrator and good in pursuit

+

Strong hands, uses arm length to disengage OL to make plays

+

Good at keeping his head up and locating the ball carrier
Weaknesses:

-

Needs to develop more consistency

-

Pad level needs to stay low; has a tendency to stand upright on contact vs OL

-

Is more quick than fast; doesn't display pure speed to turn the edge vs pass

-

Hand placement can be inconsistent

-

A bit of a 'tweener
NFL Player Comparison: DE Antonio Smith Houston Texans
Analysis

:
Datone Jones was the leader of an underrated UCLA defensive unit that really blossomed under new head coach Jim Mora. Jones was a key cog in the Bruins defensive line, moving up and down the line to create mismatches against opposing offenses. He may not be known to many outside of the Pac-12, but Jones could be drafted before the end of the 2nd round based on his skill set and potential. Jones was coming into his own playing next to former Bruins DT Brian Price and LB Akeem Ayers, but that growth was stunted when he broke his foot going into his junior year. After sitting out the year, Jones spent the next year rounding back into shape before he had a very solid senior season. If he can gain an additional 10 to 15 pounds, he could move inside as a 4-3 UT to take advantage of his quickness and length. He could take advantage of that quickness to penetrate the inside and be used in stunts. Jones' best fit in the NFL could ultimately be as a 3-4 DE if he can learn to be a consistent anchor on the outside against the run.
Raiders Draft Outlook:
Jones is an unheralded DE prospect who could surprise a lot of people by leap-frogging more well known players come April. The Raiders could use more than 1 new DE on the roster next season. Matt Shaughnessy is a free agent and even if re-signed, has not shown he can stay healthy enough to be consistent on the football field. Lamarr Houston will be a starter on one side, irregardless of the defensive scheme. Jones is also versatile enough to play in any defensive front. Unless Jones falls into the 3rd round or engineer a trade down for added Day 2 picks, the Raiders will likely miss out on a very good defensive prospect who could be an even better pro than he was in college.