Name: Johnathan Hankins
Height: 6' - 3"
Weight: 320 lbs.
Class: Junior
Hometown: Dearborn Heights, MI
Date of Birth: January 1, 1992 (21 years old)
High School: Southeastern High School
2012 Junior Year

:

Associated Press 2nd Team All-American.....2nd Team All-Big 10.....finished the season with 55 tackles (22 solo), 5 tackles for loss and 1 sack.
2011 Sophomore Year

:

Honorable Mention All-Big 10.....started all 13 games, finishing the season with 67 total tackles (32 solo), 14 tackles for loss, 3 sacks and 1 fumble recovery.
2010 Freshman Year

:

Voted by coaches as outstanding first year player after his freshman season, earning a spot on the defensive line rotation.
2011 Sophomore Highlights

:
+

Massive with powerful lower body
+
Disruptive with the ability to collapse the pocket
+
Strong at the point of attack
+
Short area quickness gives him positional advantage
+
Good balance, doesn't get knocked off his feet very much
+
Versatility is a plus....lined up at multiple positions on the DL
+
Seals the hole very well against the run
+
Laterally moves well when engaged against OL in run defense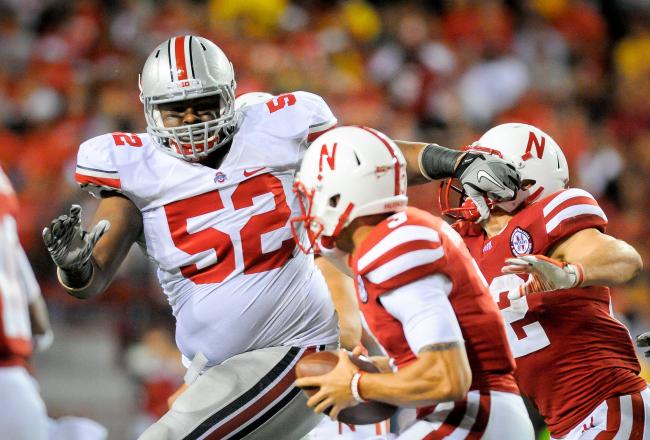 -

Conditioning needs improvement; has a sloppy body
-
Needs to improve on tracking the ball when engaged by OL
-
Doesn't always use size to his advantage
-
Tends to overpursue and is susceptible to cutbacks in run defense
NFL Player Comparison: Ahtyba Rubin Cleveland Browns
Johnathan Hankins is one of the top defensive tackles in the 2013 NFL Draft. A stout run defender, Hankins is blessed with quick feet for a man his size. He has shown the versatility to line up as nose tackle, under tackle, and 5 technique defensive end over his career as a Buckeye. Hankins can be equally effective playing NT in a 3-4 or as a DT in the 4-3. When double teamed he possesses the ability to tie up multiple OL but when he's on his game he can be a disruptive force. He has the size and strength to effectively fill the gap and shut down the running lane. In a deep DT class, Hankins is currently projected to go somewhere between the middle and later part of the 1st round.
Johnathan Hankins would be considered a reach at the Raiders' current slot with the 3rd pick overall. Currently Star Lotulelei is the top DT prospect in this draft and is the only one worthy of a top 5 selection. If the Raiders were to organize a trade down between 15-25, Hankins could be an option based on need and his ability to play in different defensive fronts. A wide body like Hankins who possesses quickness would add a interior presence that has been sorely lacking in recent years. The biggest knock on Hankins is that he doesn't always play to his ability. His junior numbers declined after a breakout sophomore campaign and it was surprising that the junior decided to declare early. If he can play up to his talent level, he could become a premier interior defender in the league, but with that comes a level of bustability. Adding to that a deep group at the position, with prospects like Sheldon Richardson, Shariff Floyd, Sylvester Williams and Jesse Williams, Hankins' private workouts and combine performance will be vital to where he ultimately lands.