Name: Margus Hunt
Height: 6' - 8"
Weight: 277 lbs.
Class: Senior
Date of Birth: July 14, 1987 (25 years old)
Hometown: Karski-Nuia, Estonia
Mustangs Career
2012 Senior Year

: Started all 13 games, compiling 31 tackles (19 solo), 11.5 tackles for loss, 8 sacks, 11 QB hurries, 1 interception, 2 passes broken up, 1 forced fumble and 3 blocked kicks.
2011 Junior Year

: Named All C-USA honorable mention....in 13 games amassed 28 tackles (16 solo), 7.5 tackles for loss, 3 sacks (all 3 sacks came in bowl game), 1 pass broken up and 3 blocked kicks.
2010 Sophomore Year

: All C-USA honorable mention....started all 13 games, ending the season with 45 tackles (21 solo), 6.5 tackles for loss, 2 sacks, 1 QB hurry and 3 blocked kicks.
2009 Freshman Year

: Played in all 13 games as a freshman....set an NCAA record for blocked kicks with 7....8 tackles, 2.5 tackles for loss, 2.5 sacks, 1 pass break up and 1 QB hurry.
2012 Senior Highlights
2011 Junior Highlights




Strengths

:

+

Elite size and athleticism at his position (6'8" 280 lbs) with room to grow

+

Extremely powerful with natural strength

+

Effective bull rusher

+

Uses his length to create leverage and distance to disengage

+

Surprisingly quick for his size with an extra burst in pursuit

+

Disruptive in passing lanes when he gets his hands up

+

Good conditioning and in-game motor

+

Tremendous upside
Weaknesses

:

-

Very inconsistent technique

-

Loses the battle at the line of scrimmage due to high pad level

-

Stiff hips and doesn't display good body bend off the edge rushing the passer

-

Game film doesn't match his ability

-

Older player (25 years old) with little football experience
NFL Player Comparison

:

Calais Campbell - Arizona Cardinals
Combine Numbers:
40 Yard Dash: 4.6 sec*
Bench Press: 38 reps*
Vertical Jump: 34.5"
Broad Jump: 121.0"
3 Cone: 7.07 sec
20 Yard Shuttle: 4.51 sec
* Top Performer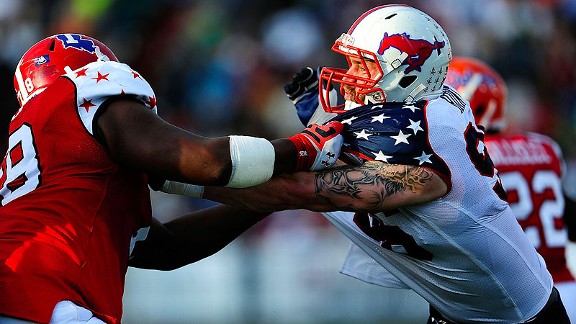 Draft Analysis
Margus Hunt is a freak. Someone of his size shouldn't be running a 4.6 forty yard dash. Someone with his length and wingspan shouldn't be lifting 225 lbs 38 times. The problem with Hunt is that as much as his numbers would indicate that he should be Tarzan, his stats say he's more like Jane. Its not due to a lack of effort and has everything to do with the fact that football is not a natural sport to him. He originally enrolled at SMU in 2007 after breaking records in the track and field World Junior Championship. Where Hunt is in his development as a football player is still in an infancy state compared to the majority of the draft eligible prospects.
Hunt has undeniable talent and a huge upside. In order to fulfill that potential, he's going to need a lot of work refining his technique to match his amazing physical ability. I don't see him as a plug and play type of prospect. He will start off his career as a rotational DE and contribute on special teams (see career blocked kicks). He's going to need time and patience to develop his football talent to match his physical prowess. Though he's not as complete a football player as Calais Campbell was when he came out, Hunt possesses similar length....not too many DEs in the NFL are 6'8". Hunt's recent Combine performance has likely catapulted his draft stock into the 2nd round and he's a prime candidate to get drafted earlier than he should.
Raiders Outlook
With the recent signings of Kevin Burnett, Nick Roach and Kaluka Maiava, it looks like Reggie McKenzie will be focusing on other areas in the draft, one of which is defensive line. The Raiders have already lost two good players in Matt Shaughnessy and Desmond Bryant. A boom or bust project like Hunt might be too big a risk for McKenzie unless he's available on the third day of the draft. If he is there, a player like Hunt could really develop into a good player. He's versatile enough to play in any defensive front and has the quickness to create mismatches. I'm even intrigued at the possibility of Hunt being converted into a TE, similar to his former teammate Taylor Thompson who's now with the Titans. Hunt's length and natural strength could be an asset at the position, especially in the red zone.