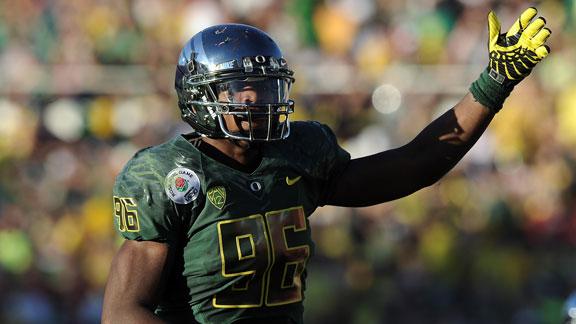 Name: Dion Jordan
Height: 6' - 6"
Weight: 248 lbs.
Class: Senior
Hometown: Chandler, AZ
Date of Birth: March 5, 1990 (23 years old)
High School: Chandler High School
Ducks Career
2012 Senior Year
:
In 12 games, amassed 44 tackles (26 solo), 10.5 tackles for loss, 5 sacks, 1 pass broken up, 1 QB hurry and 3 fumbles forced.
2011 Junior Year
:
First Team All Pac-12....played in 14 games, starting 12 and garnering 42 tackles (25 solo), 13 tackles for loss, 7.5 sacks, 1 QB hurry and 1 fumble forced.
2010 Sophomore Year
:
Made the transition from TE to DE in the spring....played in 13 games with 33 tackles (21 solo), 5.5 tackles for loss, 2 sacks, 1 pass broken up and 2 QB hurries.
2010 Freshman Year
:
Reserve tight end and played special teams.
2009 Redshirt Year
:
Redshirted after being a highly ranked national recruit at tight end.
2012 Senior Highlights
2011 Junior Highlights
Strengths
+

Rare length / speed combination with excellent length
+
Very versatile defender that can play standing up or with his hand in the dirt
+
Extremely fluid and agile; can drop back and play in coverage
+
Flexible hips and good footwork allow him to stay low when rushing off the edge
+
Has good hand usage and uses his arm length effectively to create separation
+
Very good play recognition and on-field awareness
+
Good conditioning and consistent motor; dangerous in backside pursuit
+
Gives good, consistent effort defending the run; surprisingly more physical than given credit for
+
Has room to add +20 lbs to his frame without losing speed or explosion
Weaknesses
-

Needs to increase overall strength and bulk to his lanky frame
-
Has a tendency to overrun plays
-
Can get overpowered by bigger OL
-
Bit of a tweener without a true position
-
Minor health issues throughout his career before the torn labrum
Bench Press: DNP - injured shoulder
20 Yard Shuttle: 4.35 sec*
NFL Player Comparison
:
DE/LB Matthias Kiwanuka - New York Giants
Aside from Shariff Floyd of Florida, there is arguably no name hotter in scouting circles than Dion Jordan right now. Recent mocks have had Jordan going as high as #2 overall to the Jaguars. That's a lot higher than where Jordan was projected just two short months ago. Much of it has to do with Jordan's Combine performance. With an injured shoulder, Jordan showcased size, quickness and explosion that is rare for a guy his size. Unlike some workout warriors, Jordan has game tape to back up his gaudy numbers.
Some scouts love Jordan's versatility to play multiple positions while others view him as a player without a true position. There is no denying that Jordan is a special talent with a tremendous upside. He can play off the edge as a rush LB or put his hand down as a traditional 4-3 DE. Jordan could even play LB in a 4-3 because he's so good in space and comfortable dropping back into coverage.
The majority of Jordan's question marks have to do with his overall strength and the ability to put on (and keep) bulk on his lanky frame. There were reports that Jordan played as light as 225 lbs last season. Even for a lighter front seven player, Jordan does not shy away from contact and is surprisingly violent at the point of attack. He has a pretty good arsenal of pass rush moves that will become even more effective if he can get stronger. The added strength and being a part of a NFL strength and conditioning program can only make Jordan more of a complete player. Jordan has the potential to be a very special player in the NFL....so much so that NFL.com's Mike Mayock compares his skill set to All-Pro Aldon Smith. Dion Jordan is a legitimate top 10 pick.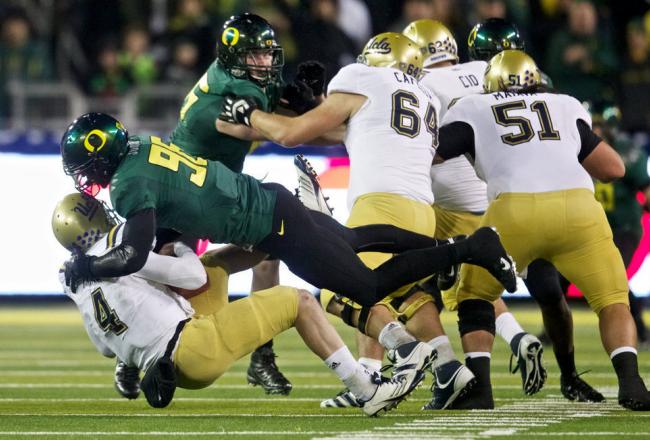 Unless the recent mocks hold true, Dion Jordan should be available when the Raiders pick at #3. It has been widely rumored that new Eagles HC Chip Kelly will take Jordan with the #4 pick overall. He's gone on record recently saying that Jordan has a "special place" in his heart as a player and person. If the Raiders posture that they plan on taking Jordan ahead of the Eagles' pick, they could move down 1 spot and get an extra draft pick in the process. If they don't, the Raiders could do far worse with the pick.
As much as DT is a need on the current roster, recent history has shown that high round DTs are slow to develop and have a high tendency to bust (ie. Glenn Dorsey and Sed Ellis to name a few). The Raiders clearly need some kind of help in the front seven. Seeing as how Reggie McKenzie has signed 3 new LBs, it would suggest that the coming year's defense will have multiple looks. Jordan has the versatility that would fit what Dennis Allen and DC Jason Tarver are trying to create with the defense. All of Jordan's perceived weaknessess are correctable and there seems to be little to no known issues of work ethic or off-field problems. It will be to no one's surprise if Dion Jordan ends up wearing a Raiders hat on draft day.