Name: Tony Jefferson
Height: 5'-11'
Weight: 213 lbs.
Class: Junior
High School: Eastlake HS
Date of Birth: January 27, 1992 ( 21 yrs old)
Hometown: Chula Vista, CA
Sooners Career:
2012 Junior Year:
Started all 13 games at free safety ... named All-America Second Team by the Associated Press, CBSSports.com and FOXSportsNext.com ... named All-Big 12 First Team by AP and coaches ... named Academic All-Big 12 First Team ... ranked second in the Big 12 and led the team with 119 total tackles, the fourth-highest total in the nation by a defensive back this season ... led the Big 12 in total tackles in conference games with 91 stops ... also led the team in solo tackles and assisted tackles ... has reached double digits in tackles in seven games .. tallied a career-high 14 tackles against both Kansas State and Oklahoma State.
2011 Sophomore Year:
Honorable mention All-Big 12 by AP and coaches ... led the team with four interceptions ... third on the team with 74 tackles ... fourth on the team with 7.5 tackles for loss ... started 12 of 13 games ... career high three tackles for loss vs. Florida State as he finished with a team-high eight tackles ... tied an OU single-game record with three interceptions vs. Ball State ... picks ended three consecutive BSU drives ... had an interception and a sack vs. Texas ... tied for a team-high six tackles vs. Kansas State including one sack ... ended the regular season with nine tackles at Oklahoma State ... had nine games with at least five tackles.
2010 Freshman Year:
Big 12 Defensive Freshman of the Year ... first team Freshman All-American by
The Sporting News
and CollegeFootballNews.com ... started nine of 14 games as a fifth defensive back ... had a career-high 12 tackles at Cincinnati ... broke up three passes against Florida State ... had one sack vs. Nebraska ... recovered a fumble against Missouri ... picked off a pass at Baylor ... had a 22-yard interception return for a touchdown in the Fiesta Bowl victory.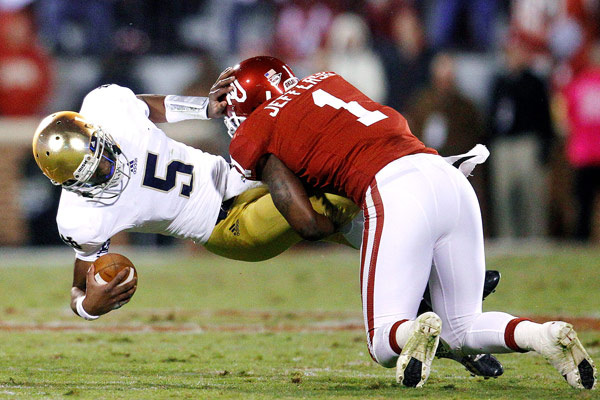 2012 Junior Highlights:
2011 Sophomore Highlights:
2010 Freshman Highlights:
Strengths (+) :
+ Versatile can line up anywhere in defensive backfield
+ Shows he can play man and zone
+
Showed improvement in all facets year to year
+
Aggressive
+
Good closing speed
+
Good change of direction
+
Does a good job locating and attacking the ball
+
Can blitz
+
Has the range to play sideline to sideline
+
Strong hitter
+
Solid against the run
+
Good tackler despite the negatives below
+
Could be a great special teams given his aggressive nature
Weaknesses (-) :
-
Goes for the big hit too much and fails to wrap up (technique issue?)
-
Aggressiveness can sometimes cause him to miss his plays (i.e., takes bad angles)
-
Not as big a FS as would be useful against the likes of Graham/Gronk
Raiders Outlook:
Reggie Mckenzie had scouts at two school's games the most this past season: West Virginia and Oklahoma. So the Raiders' scouts saw a lot of Tony Jefferson this year. Whether he was their focus or not we're likely never to know for sure. Most drafting sites seem to have him projected as a solid 3rd Rounder. If Jefferson is still there when the Raiders pick early in the 3rd he could be a good option to replace the recently cut Michael Huff and fill the gigantic void next to SS Tyvon Branch.
There are quite a few good-to-great safeties in this draft and Tony Jefferson may not be among them with his negatives (shorter stature, lacking elite speed, etc.) likely turning off some teams. The reason I believe the Raiders could be interested is that Reggie, Head Coach Dennis Allen, and Defensive Coordinator Jason Tarver all seem to heavily value a players versatility. Almost valuing Swiss Army Knife type players over those who are really good at one thing. Tony Jefferson lined up as a deep safety, in the box, covered TEs, and covered WRs outside and in the slot.
The key to Jefferson's success in the pros, either with the Raiders or another team, is going to be based on how effectively his DC is able to focus that aggressiveness. When Jefferson uses good technique and is "on" he can be a force at FS, crushing ballcarriers, making interceptions and shutting down receivers.