I thought the Raiders should go out and get Maurice Jones-Drew before the start of free agency. My thought process was that the fit was perfect. Rashad Jennings, MJD's backup excelled in his role. A healthy MJD is a much talented and productive player. Now that he's officially a Raider, he's coming home. Just a few years ago, both MJD and Darren McFadden shared the backfield in the Pro Bowl. Now they're going to share the workload in 2014.
The general consensus with the national media is that MJD is not the same player he was and he's just another also-ran declining veteran that Reggie McKenzie's collected this offseason. There are only a few out there that think this is a good signing or that MJD will have a productive year. Is the negativity because its the Raiders or is MJD really washed up?
Looking at it from a production standpoint, MJD did have a down year. The Jaguars were also one of four teams that were worse than the Raiders last year. With the only other legit offensive weapon in Justin Blackmon playing all but 4 games last year, opponents stacked the box and dared Jacksonville to throw the ball. Obviously a tandem of Blaine Gabbert and Chad Henne didn't strike any fear for an opposing secondary. On top of seeing 7 man fronts on a regular basis, MJD was coming off a serious Lisfranc injury that derailed his 2012 season which, interestingly enough, ended against Oakland.
The good news is that MJD is going to be one extra year removed from the serious midfoot injury. He's also going to be playing close to home. MJD has always found a way to motivate himself and bounce back. What kind of player he will be for Oakland remains to be seen, but I'm gonna put my money on MJD.
Even better is the money that the Raiders will be committing to MJD. Word was leaked today that his deal is only worth an average of $2.5M per year. That's a great team deal with very little money tied to the salary cap. Kudos to Reggie for signing him to a team friendly deal. Not only does he help Oakland in the short term, but it also keeps the teams options open with cap space for the future.
Here's a E:60 on Jones-Drew from back in 2011. It shows the type of competitor MJD is and what kind of person he is off the field. I've followed him since his UCLA days and personally I'm stoked to see the Raiders bringing in a player who has something to prove AND is a great veteran fixture in the locker room and in the community.
I may be in the minority when it comes to DeSean Jackson and his possible (imminent?) signing with Oakland. I'm not 100% on board with his addition to the Raiders. First and foremost, as a Raiders fan, I would love to see an offensive weapon be added to the roster. The Raiders haven't had a legitimate perimeter threat since pre-Jamarcus Russell. Jackson would instantly upgrade and enhance the signings of Matt Schaub, MJD, and James Jones. He would be the key in stretching the field and opening up the Raiders offense. The other added element in Jackson's game that has been lacking as of late for the Raiders is the return game. From the potential of what D-Jax would bring to Oakland, the ability to sign him and bring him back to the Bay would be a win-win.
I'd be lying though if I said I'm not worried about some of D-Jax's off the field associations. The NJ.com article using Aaron Hernandez in their article about D-Jax's purported gang ties was ridiculous. Hernandez was convicted of manslaughter. He actively took part in the death of another human being. Though D-Jax may have some ties to the Crips, that could very well just be childhood buddies and school friends that he's still in touch with. Jackson went to Long Beach Poly High School and that surrounding area of Southern California is well known to have a presence of both Crips and Bloods. It is a cause for concern that his off-field associations and activities may have a negative effect on him as a team player.
If this was any other year besides this one, I'd be inclined to think that the Jackson to Oakland idea was a bad idea. With no veteran leadership and an unstable QB situation, Jackson would probably have a meltdown every week. He'd probably have ended up with every other failed free agent WR experiment (ie. Jerry Porter, Randy Moss, Javon Walker). When there is a player who's seen as a diva at WR, it only works if there is a experienced veteran QB in place. A developmental QB like Terelle Pryor throwing to Jackson would have been a recipe for disaster.
But this is no longer the case in Oakland. Even with a bad year, Matt Schaub is still an experienced veteran with Pro Bowl credentials. That might not be on the Peyton Manning or Phillip Rivers level (like HC Dennis Allen compared it to), but its a huge upgrade from an inconsistent QB who's still learning to throw or an undrafted free agent behind center. This team is now also loaded with respected veterans with the additions of the aforementioned Schaub, James Jones, Justin Tuck, Lamarr Woodley, and Antonio Smith. Having guys like that in the locker room could help Jackson keep his mind right and on football.
The thing that will determine if Jackson is a good or bad fit is the contract. I'm almost certain that Jackson will go to whatever team that will pay him the most. The Jets have the most money left in cap space and the presence of Michael Vick might tempt him enough to sign there (if New York is interested of course). Jackson is visiting the Redskins today. Robert Griffin to Jackson might be too enticing for owner Dan Snyder to resist. It would be a double get for the Redskins adding a weapon like Jackson and keeping him within the same division as his former team.
But the point that I'm making is that as much as there are ties to California and the Bay area, Jackson is not going to play at a bargain price. He's been unhappy in the past with his contract situation and has made it known publicly. #DJaxtoOakland may be trending, but ultimately he's going to go to the highest bidder, whether or not its Oakland. If Reggie holds true to form with his offseason dealings, he's not going to overpay or get tied up to any deal that weighs down the team.
DRAFT IMPLICATIONS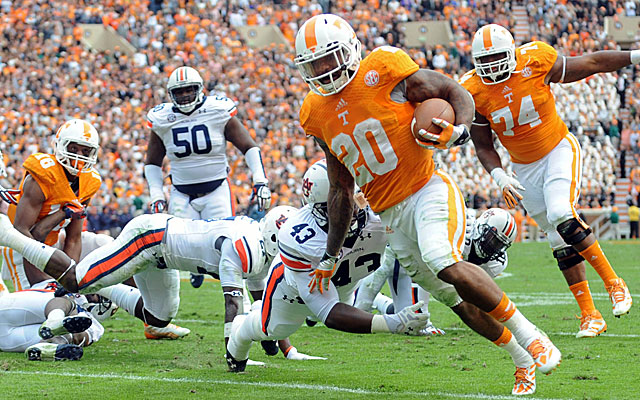 The addition of Maurice Jones-Drew tells me that the Raiders most likely will not draft a running back. McKenzie recently stated that none of the additions this offseason will affect the way he approaches the draft. That means of course he values talent over need. I think if the Raiders stick with their picks and don't acquire additional picks, they're going to pass on RB in the early rounds. With a crowded backfield of MJD, DMac and Latavius Murray, even a talent like Bishop Sankey or Ka'Deem Carey in the early rounds wouldn't make sense. Not with the other positions that need upgrading. If Murray shows anything this year, he could be the back of the future for Oakland.
So if the Raiders do go RB, it will most likely be in the later part of the draft. A couple of late RB possibilites: Rajion Neal (Tennessee), Silas Redd (USC), Kapri Bibbs (Colorado State), Alfred Blue (LSU) and Brandon Oliver (Buffalo).
I don't want to speculate too much into what D-Jax's addition will do for the team's draft strategy until he officially becomes a Raider. But I will say that if Sammy Watkins is on deck at pick #5, the Raiders must draft him, with or without Jackson on the roster. A player like Watkins is too good to pass up on. If the Raiders did get D-Jax, I'd be inclined to think that they'd probably trade Denarius Moore for a pick. Its not that I don't want him on the team, but he would be a tradable asset with a bargain rookie contract to boot.
Updated Top 32 3/31:
1. Jadeveon Clowney DE South Carolina
2. Sammy Watkins WR Clemson
3. Greg Robinson OT Auburn
4. Khalil Mack LB Buffalo
5. Jake Matthews OT TAMU
6. Anthony Barr LB UCLA
7. Teddy Bridgewater QB Louisville
8. Derek Carr QB Fresno State
9. Justin Gilbert CB Oklahoma State
10. Blake Bortles QB UCF
11. Mike Evans WR TAMU
12. Darqueze Dennard CB Michigan State
13. Taylor Lewan OT Michigan
14. Eric Ebron TE UNC
15. Aaron Donald DT Pitt
16. Kony Ealy DE Mizzou
17. Zach Martin OT Notre Dame
18. Brandin Cooks WR Oregon State
19. Calvin Pryor FS Louisville
20. CJ Mosely LB Alabama
21. Marqise Lee WR USC
22. Johnny Manziel QB TAMU
23. Hasean Clinton-Dix FS Alabama
24. Jason Verrett CB TCU
25. Rashede Hageman DT Minnesota
26. Odell Beckham Jr. WR LSU
27. Louis Nix III DT Notre Dame
28. Kyle Van Noy LB BYU
29. Kelvin Benjamin WR Florida State
30. Ryan Shazier LB Ohio State
31. Timmy Jernigan DT Florida State
32. Kyle Fuller CB Virginia Tech