Pitt's DT Aaron Donald is as hot as any prospect in this draft
1. Jadeveon Clowney — DE — South Carolina
Easily the best player in this class, Clowney is arguably the best defensive prospect in the last 10 years. He has some red flags thanks to his minor work ethic concerns and injury past, but any team that passes on Clowney will likely regret the move in three years.
2. Greg Robinson — OT — Auburn
Robinson seemingly came out of nowhere this year (based on preseason expectations). But after a dominant season and a wowing performance at the NFL Combine, he's proved not only to be the top offensive tackle in this class, but one of the higher-upside pass blockers in recent draft history.
3. Sammy Watkins — WR — Clemson
Watkins is an explosive playmaker in both short and vertical routes, and he can make a huge impact on any team within the top 5 picks. There are few holes in his game and, despite being a part of a loaded receiver class, he won't fall on draft day.
4. Khalil Mack — OLB — Buffalo
After Clowney, Mack is the most NFL-ready pass rusher in this class. Having played a hybrid linebacker position throughout his Buffalo career, Mack can fit as a 4-3 defensive end as well as an outside linebacker in a 3-4 or 4-3 scheme. That versatility and pass-rushing impact should keep him within the top 6 picks on draft day.
5. Jake Matthews — OT — Texas A&M
On the same level (if not higher) as last year's No. 2 overall pick and former teammate Luke Joeckel, Matthews has the experience at both tackle positions, and is athletic enough upfield to be an impact run blocker and a more-than-adequate pass blocker at either spot.
6. Eric Ebron — TE — North Carolina
Athletically comparable to Vernon Davis, Ebron is the clear top tight end and has a real chance to go in the top 10 picks. With strong hands, smooth routes and versatility in where he can lineup, Ebron should make an instant NFL impact.
7. Taylor Lewan — OT — Michigan
There are some character concerns with Lewan, but he was tremendously impressive throughout his senior season as a pass and run blocker. After posting some of the best Combine numbers, he proved he's more than just a mauling offensive tackle. Many teams had him graded above both of last year's top overall picks had he come out early.
8. Aaron Donald — DT — Pittsburgh
Aaron Donald is undersized compared to most that play his position, which will probably limit how high he can go on draft day. But if he can find a team that can best utilize his elite interior disruption skills in a 4-3 defense, he has a chance to be among the NFL's best 3-techniques.
9. Anthony Barr — OLB — UCLA
Anthony Barr has only played outside linebacker three years and needs to be molded for a year or two before he can reach his NFL ceiling. But if the flashes of pass rushing and short-area coverage skills that he showed during the past two years at UCLA are signs of the future, he's worth a top 10 pick.
10. Darqueze Dennard — CB — Michigan State
Few cornerbacks are as NFL-ready as Dennard is in this class, and the value of having an impact starter at the defensive back position is at an all-time high in the NFL. Dennard can press, remains physical down the field and can likely fit in Cover-2 or Cover-3 defenses in the NFL.

11. Marqise Lee — WR — USC
Despite a down season this year thanks to inconsistent quarterback play, don't count Marqise Lee out as a prospect just yet. A smooth athlete who keeps his balance well after the catch and extends away from his frame well, Lee is a better prospect than his teammate Robert Woods was last year, and is a worthwhile first-rounder in this class.
LSU's Odell Beckham's stock has jumped since the Combine
12. Odell Beckham — WR — LSU
Beckham isn't a finished product yet, but his body control as a runner and high-pointing receiver are remarkably impressive. He's not the most-ready receiver right now, but it wouldn't surprise at all if he ends up as the best receiver from this class.
13. CJ Mosely — ILB — Alabama
The recent failure of Alabama defenders is worrisome, but Mosley is too versatile, developed and well-built to anticipate him "busting" in the NFL. He can play inside linebacker for 3-4 or 4-3 teams, and offers outside linebacker versatility in both as well.
14. Jeremiah Attaochu — OLB — Georgia Tech
Despite his struggles to be productive his last two years in college, Attaochu's lack of impact plays at the Senior Bowl and the fact that he couldn't workout at the Combine, Attaochu is still, athletically, one of the most impressive pass rushers in this class.
15. Louis Nix III — DT — Notre Dame
Louis Nix has elite nose tackle upside, but he didn't always play like it during his final year in college. He may not be the second coming of Vince Wilfork, but he gives effort and has elite size to play the position, two things that 3-4 teams can't afford to pass on.
16. Jace Amaro — TE — Texas Tech
Playing more of a receiver than complete tight end in college, Jace Amaro looks to fill that Jimmy Graham-type role in the NFL as a slot match-up nightmare who can control the middle of the field with both his routes and athleticism.
17. Ha Ha Clinton-Dix — S — Alabama
The premier safety in this class, Clinton-Dix can step into the NFL and be a capable starting strong safety. While he's more of a late first-round talent, his value will likely thrust up thanks to the value of safeties and the weakness of this class at the position.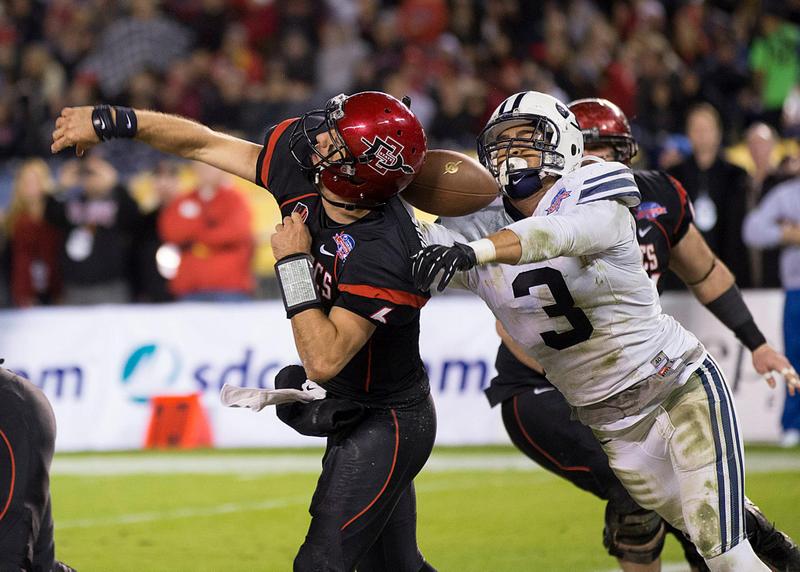 BYU's Kyle Van Noy is flying under the radar
18. Kyle Van Noy — OLB — BYU
Despite not getting nearly enough attention during his senior season — likely thanks to Ezekiel Ansah leaving the team — Van Noy is still a first-round talent who can play in any defense. With experience in rushing and dropping into coverage from, literally, every linebacker position in a 4-3 or 3-4 defense, he'll be viewed as a plug-and-play starter in the late-first or early-second round.

19. Zach Martin — OT — Notre Dame
After the top three offensive tackles, all of which will be taken in the first 13 picks, Martin is the only tackle perceived as NFL-ready. He is a bit undersized (under 6-5, less-than-ideal arm length) but he's polished and consistent with his hands and can play right tackle in the NFL. If that doesn't work out, he could be among the NFL's best offensive guards.
20. Justin Gilbert — CB — Oklahoma State
With ideal length and athleticism, he has a very good chance to be a top 15 pick. But in terms of his future NFL success, his footwork, anticipation and hand usage just aren't NFL ready. If he learns the position, he could be elite. But there's no guarantee he'll ever get there.
21. Dee Ford — OLB — Auburn
Past injury concerns may cause some concern for teams, but Ford's Senior Bowl and Pro Day workout performance should keep teams from dropping him far on boards. A tremendously quick speed rusher, he has a 3-4 linebacker home in the NFL.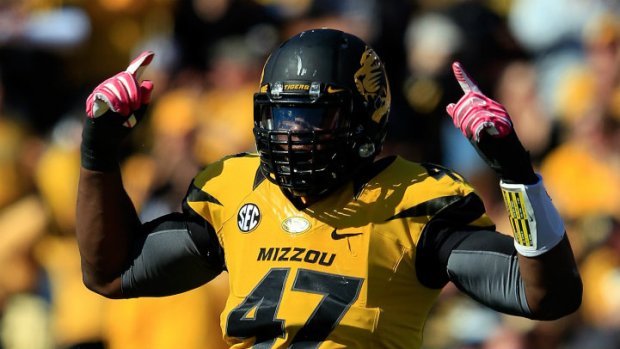 Mizzou DE Kony Ealy is a premier 4-3 end prospect
22. Kony Ealy — DE — Missouri
Michael Sam may get the headlines, but his teammate on the Missouri defensive line is clearly the better NFL prospect. With the fluidity and short-area control to work as a rusher from a variety of positions, Ealy can fit in multiple defenses, probably best in a 3-4. He could go as high as 10th- overall on draft day.
23. Allen Robinson — WR — Penn State
He didn't have the best Combine and didn't steal headlines while in college, but Robinson is a lot like last year's rookie standout Keenan Allen in his ability to get natural separation in the mid-field and make plays after the catch.
24. Kyle Fuller — CB — Virginia Tech
Despite being hurt for most of his senior season, Kyle Fuller hasn't been forgotten by NFL personnel. With the value placed on cornerbacks combined with his ball skills and anticipation, he has a very good chance to go in the first round.

25. Ra'Shede Hageman — DT — Minnesota
A strong upfield rusher, Hageman is a well-built, long interior presence who likely fits best as a 3-4 defensive lineman, either at nose tackle or 5-technique. He's a great athlete who has the tools to eventually become a Muhammad Wilkerson-type impact player.
26. Jason Verrett – CB - TCU
27. Brandin Cooks - WR - Oregon State
28. Jimmie Ward – SAF -Northern Illinois
29. Xavier Su'a-Filo – OG - UCLA
30. Marcus Smith – DE - Louisville
31. David Yankey – OG - Stanford
32. Calvin Pryor - SAF - Louisville
33. Pierre Desir - CB - Lindenwood
34. Dominique Easley – DT - Florida
35. Jarvis Landry – WR - LSU
36. Mike Evans - WR - Texas A&M
37. Timmy Jernigan – DT -Florida State
38. Scott Crichton – DE - Oregon State
39. Bradley Roby – CB - Ohio State
40. Charles Sims – RB - West Virginia
41. Ryan Shazier - OLB - Ohio State
42. Trent Murphy – DE - Stanford
43. Cameron Fleming – OT - Stanford
44. Carlos Hyde - RB - Ohio State
45. Troy Niklas – TE - Notre Dame
46. Antonio Richardson - OT - Tennessee
47. Cyrus Kouandjio – OT - Alabama
48. Kelvin Benjamin - WR - Florida State
49. Austin Serefin-Jenkins – TE - Washington
50. Dion Bailey - SAF – USC
Arizona State OLB Carl Bradford's a great 3-4 OLB fit
51. Davante Adams – WR - Fresno State
52. Shayne Skov – ILB - Stanford
53. Gabe Jackson – OG - Mississippi State
54. Jared Abbrederis – WR - Wisconsin
55. Travis Swanson – OC - Arkansas
56. Tre Mason – RB - Auburn
57. Aaron Lynch - DE - South Florida
58. Brandon Thomas – OT - Clemson
59. Lamarcus Joyner – SAF - Florida State
60. Isaiah Crowell – RB - Alabama State
61. Seantrel Henderson - OT - Miami (FL)
62. DaQuan Jones – DT - Penn State
63. Caraun Reid - DT - Princeton
64. Jon Halapio -OG - Florida
65. Jordan Matthews – WR - Vanderbilt
66. CJ Fiedorowicz - TE - Iowa
67. Demarcus Lawrence - OLB - Boise State
68. Yawin Smallwood – ILB - Uconn
69. Stephon Tuitt – DT - Notre Dame
70. Billy Turner - OT - North Dakota State
71. Stanley Jean-Baptiste – CB - Nebraska
72. Deone Bucannon – SAF - Washington State
73. Chris Borland – ILB Wisconsin
74. Carl Bradford – OLB - Arizona State
75. Ed Reynolds - SAF - Stanford
76. Jack Mewhort – OT - Ohio State
77. Ka'Deem Carey - RB - Arizona
78. Storm Johnson – RB - UCF
79. Joe Bitonio - OG - Nevada
80. Bishop Sankey – RB - Washington
81. Chris Smith - DE - Arkansas
82. Robert Herron - WR - Wyoming
83. Ja'Wuan James - OT - Tennessee
84. Weston Richburg - OC - Colorado State
85. Brandon Coleman - WR - Rutgers
86. George Uko - DT - USC
87. Will Sutton – DT - Arizona State
88. Bruce Ellington – WR - South Carolina
89. Ed Stinson – DE - Alabama
90. Kapri Bibbs – RB - Colorado State
91. Keith McGill - CB - Utah
92. Anthony Johnson – DT - LSU
93. Morgan Moses - OT - Virginia
94. Cyril Richardson – OG - Baylor
95. AC Leonard - TE - Tennessee State
96. Josh Huff - WR - Oregon
97. Terrance West – RB - Towson
98. Trai Turner - OG - LSU
99. Jaylen Watkins – CB - Florida
100. Martavius Bryant - WR - Clemson