The Matt Schaub trade will be the most important move for the short term of the team, but will also determine the long term future of GM Reggie McKenzie. He's hedging his bets that he didn't trade for a bad QB, but for a QB who had a bad year.
In a recent interview with a local Bay area radio show, once former now back-again teammate Antonio Smith stated that it was the playcalling that became predictable in Houston last year. He put the responsibility on the coaching staff, even going so far as to say that then teammate Andre Johnson stated the opposing defense knew what plays they were running.
Unlike the Carson Palmer trade that cost the Raiders two 1st round picks (still blows my mind) for a player who was watching football from a couch on Sundays, this move by McKenzie is not one of desperation. Its also not anything like the Raiders giving up a 5th round pick for a life-long backup with Green Bay ties either. To that point, I think Reggie learned a lesson in sentimentality with former draft picks.
Some critics of this move may wonder aloud why the Raiders would give up a draft pick since Schaub getting cut would be just a matter of time. Had the Raiders waited for that to happen, they'd be putting themselves in a position with zero leverage. He's also the best QB option for the Raiders for the immediate future.
Last year wasn't a gradual decline in play for Schaub. He had a bad year as did the whole Texans team. All of that can't be put on Schaub. As bad as a season Schaub had last year, accounted with those abysmal stats, Schaub still averages a 90 QB rating with a 64% completion percentage. From 2008-2012, Schaub averaged a QB rating of 94 and completed 65% of his passes. The most important thing for the Raiders now is that they have someone under center with experience.
There's been rumors that once the Raiders sign Schaub, they'd look to trade Terrelle Pryor for a draft pick. I personally don't see this happening unless another team sees the value in Pryor's potential coupled with an affordable contract. The obvious potential suitor would be Pryor's hometown Cleveland Browns. With only Brian Hoyer on their roster, the Browns will certainly look at their options in FA along with the draft. As a favorite to pickup a QB with one of their two 1st round picks, I highly doubt this happening unless someone in the organization pulls hard for him.
What this signing also does is that it leaves the Raiders with flexibility and options come draft day. I wasn't sold on the Raiders using their 5th pick on a QB, even if they had their choice between Bortles or Bridgewater. All of the new free agents Reggie has signed contracts to are for the now, not for later. With the advantage of the cap space, Reggie understands the pressure he's under and the expectations of fans that's built up steam since he first took the position. McKenzie can't afford to have another season remotely close to the last two 4-12 seasons. Reggie and Dennis Allen are now 100% responsible for the Raiders and the fans. A guy like Schaub is the perfect fit, since he's probably motivated to show last year was an aberration.
Draft Outlook: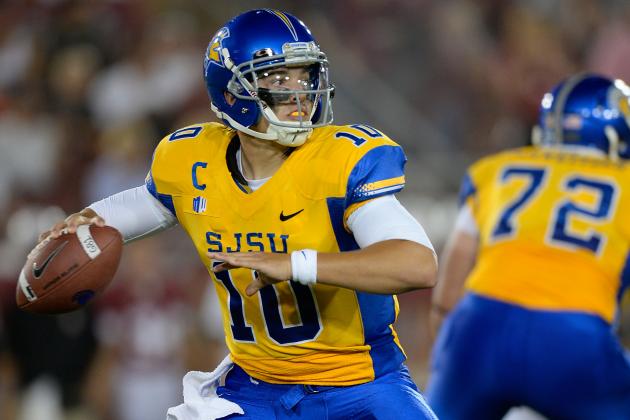 Its already been floated that though the Raiders may no longer be looking at QB at #5, it doesn't exclude them from drafting a QB in the early rounds completely. The best case scenario is that Schaub rebounds and has 2-3 good years left in him. Even then, there isn't a long-term answer on this roster. Those who like Matt McGloin might think he could be the guy, my take is that he will be a solid backup who'll flash in spot duty.
I really think that the Raiders are going to draft San Jose State QB David Fales sometime late day 2 or early day 3 of the draft. If it doesn't happen its because it lines up too perfectly. There are members of the Raiders staff that know him well, ie. QB coach John DeFillippo who served in the same capacity at SJSU. Reggie McKenzie chose to go to Fales' pro day over Blake Bortles. Maybe that had more to do with proximity, but when I connect the dots, I don't believe any of this year's top QBs are options in the first round for Reggie. Its almost a given now that Schaub's on the roster. Reggie's been known to favor seniors over early entry juniors, and I believe that is even more true when it comes to QB.
There are other senior QBs, but the reason why Fales also would fit for the Raiders is because of his skill set fit as a WCO QB. The only true knock on Fales' game is his lack of ideal arm strength. By all accounts of his pro day, Fales was accurate and threw the ball well. In the WCO employed by the Raiders, there's no need to have a QB with a cannon arm, but a guy who can get into rhythm and throw with a high completion rate. That's Fales' game in a nutshell.
Fellow MWC QB Derek Carr is the other obvious link at QB for the Raiders. Blessed with probably the best arm in this year's draft, the whole coaching staff was on hand for Carr's pro day. By media accounts, Carr didn't have a bad throw during the whole workout with the only knock being his deep ball accuracy. Still it was a pretty impressive workout nonetheless, considering he was vomiting and sick enough to require IVs earlier that morning.
Carr in my opinion is more physically talented than Fales, but the only way the Raiders get Carr is via trade down. Even with the trade down, the goal for Reggie on day 1 of the draft is to find a difference maker on offense or defense who can contribute immediately. Carr doesn't fit that description, so if the Raiders do go QB in this particular draft, Fales is their guy.
Mock Draft:
Before the start of free agency, the most mocked positions for the Raiders at #5 was either a QB, OT and every once in awhile, Jadeveon Clowney and Sammy Watkins. Matt Schaub takes care of the QB need, Donald Penn was signed to play LT and both Justin Tuck and Lamarr Woodley were brought in to lessen the loss of Veldheer.
I think if the Raiders stay put and Sammy Watkins is still on the board, he has to be the pick. Watkins is arguably the best offensive weapon in this year's draft. Pairing him with Schaub would help maximize both players' production for Oakland immediately.
1. Sammy Watkins WR Clemson
2. Bishop Sankey RB Washington
3. Marcus Smith DE Louisville
4. David Fales QB SJSU
7. Deandre Coleman DT Cal
7. Carrington Byndom CB Texas
The best case scenario would be for the Raiders to trade down at some point in the draft and attain a couple of picks in the process. The hope would be some sort of trade situation in the 1st round, but with everyone knowing how deep this draft is, there won't be many teams on draft day looking to crack the top 10 and give up draft picks. One of the few scenarios in which this could happen is if Jadeveon Clowney somehow makes his way down to Oakland at #5. I personally don't think he'll fall that far, but if he does, the Raiders will be sitting pretty. But that's the homer in me talking. Even if Clowney did fall to Oakland, I'd rather take the impact guy like Clowney and look to make some moves in the 2nd or 3rd round to acquire picks.